What to Do When Rain Washes Away New Topsoil? A Comprehensive Guide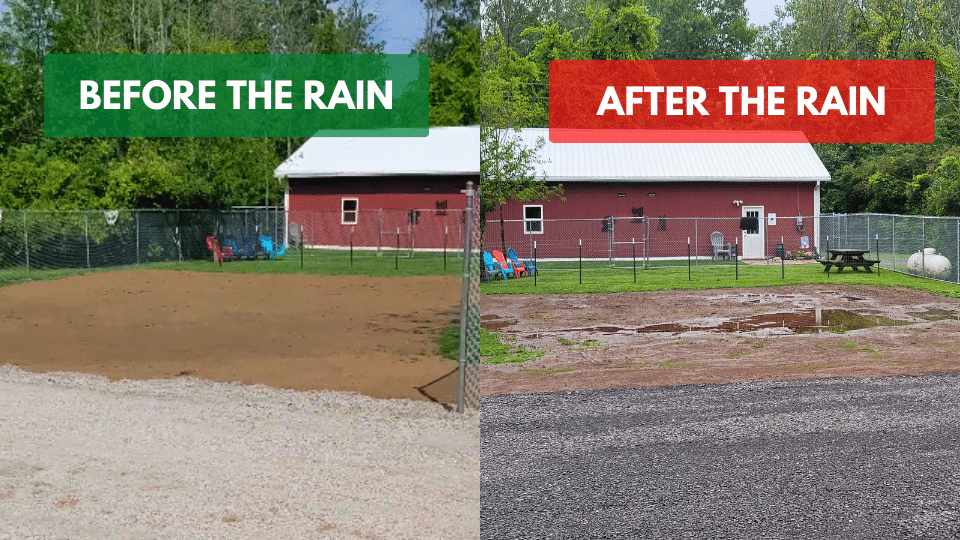 Topsoil Condition After the Rain in Hilton
A Comprehensive Guide for your New Topsoil
Investing in a topsoil installation or grading project can transform your outdoor space, laying the foundation for a lush, thriving lawn. Here is the example of the topsoil installation we did.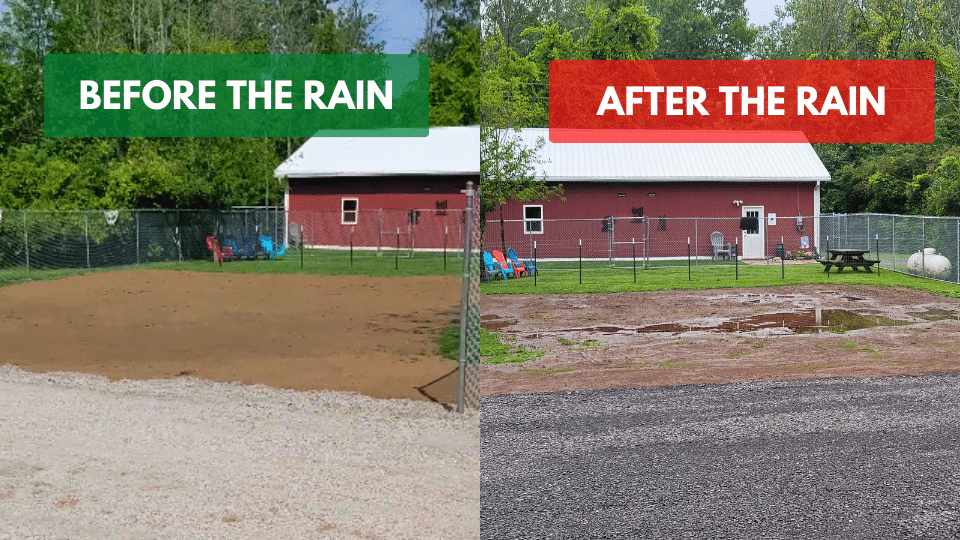 Before and After Pictures of Land Grading and Topsoil Installation Project in Holley
However, unpredictable elements like heavy rainfall can pose challenges even when your contractor has done an impeccable job. This guide is here to help you navigate the aftermath of rain-disrupted topsoil and grading projects.
Understanding the Impact of Rain on Soil
Rainfall and soil share a delicate relationship. Moderate rain can aid soil compaction and stability, an integral part of the post-installation process. However, excessive rain, particularly right after the completion of a landscaping project, can offset this balance, leading to soil displacement and creating voids.
Dealing with the New Topsoil After the Rain
If a sudden downpour disrupts your new topsoil or grading work, don't despair. Once the weather improves and any standing water has drained, you might be able to manually move some soil back into place. For larger disruptions, it's wise to call your contractor back. They can expertly assess the situation and restore the area to its original condition.
Who Bears the Costs of Nature's Curveballs?
In the event of rain-induced disruption, a common question arises about the financial responsibility for touch-ups or additional work. Here's an analogy to illustrate: Suppose you commissioned a painter to create a beautiful mural on your exterior wall. The work is done perfectly, earning your praise and a glowing review. However, an unexpected hailstorm damages the mural shortly after. In such a scenario, it wouldn't be fair or standard to expect the painter to bear the cost of repairs. The same principle applies to landscaping projects. Contractors can be hired to rectify the damage, but the cost of this additional service typically falls to the client, since they, like the contractor, have no control over the weather.
Embracing the Unpredictability
When it comes to outdoor projects, one thing is certain: there's always an element of unpredictability. Weather is a force we can't control, and even with the most precise forecasting technology, unexpected severe conditions can arise. In these situations, patience and adaptability become our greatest allies. Understand that not every weather-related disruption is preventable or predictable, and it's in these moments that our resilience shines through. Keep in mind that, although they can be frustrating, these incidents are often isolated events that do not reflect the overall outcome or success of your landscaping endeavors.
Navigating Unpredictability
The reality of outdoor projects is their susceptibility to nature's whims. Even with meticulous planning and expert execution, unexpected storms can undo some of the work. That's why it's important to have an understanding of how to deal with such situations and ensure that they don't overshadow the excellent work done by your contractor.
Conclusion
While unexpected weather events can be frustrating, they're part of the journey when it comes to creating and nurturing your perfect outdoor space. These instances test our resilience, but they're also opportunities to learn and grow. The important thing is not to lose sight of your vision. Your dedication and the expertise of your contractor can see you through these unexpected challenges, ensuring that the beauty of your lawn triumphs in the end. And remember, a truly beautiful lawn is not just a testament to the work done, but also to the resilience and adaptability shown in the face of nature's curveballs.
Whether you're looking into a land grading or topsoil installation project in these counties: Niagara, Erie, Orleans, Genesee, Wyoming, Monroe, Livingston, Wayne and Ontario, DC Hauling Excavating and Gravel Driveway Specialists is the contractor you're looking for.
We care about the customer experience and we're dedicated to demonstrating excellence in all facets of our business. DC Makes it EASY!